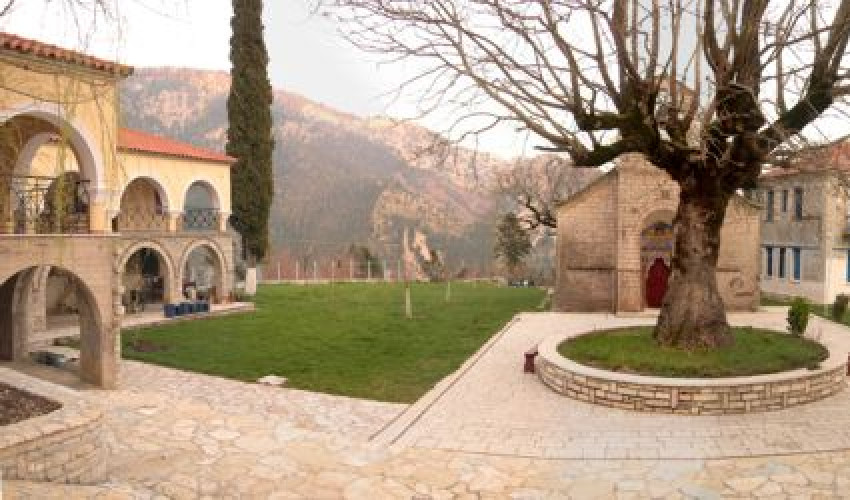 The traditional village Platanos, one of the most authentic of Mountainous Nafpaktia, is the ideal place for recreation for all seasons of the year.

MONASTERY OF PANAGIA AMPELAKIOTISSA
The famous Monastery of Panagia Ampelakiotissa, built after 1455. Its name comes from the image of Panagia ("Holy Mary") that was saved from the Turks' rage in the village Ampelakia of Thessaly and according to tradition it was found by miracle in the area.

CROSSING THE GORGE OF KAKAVOS
The gorge of Kakavos has good signage. The main river that crosses the gorge is Kotsalos. In an altitude of approximately 650m, the bridge of Kakavos connects at its narrowest point the steep hillsides of the gorge. Its construction is dated in the end of 19th century. Its length is 15 meters; its width is approximately 2 meters, while its height from the river-bed exceeds 10 meters. Travellers, carriers with their mules, merchants, post officers, shepherds with their flocks and pilgrims of the monastery were crossing its stone-paved road.

CLIMB AT THE TOP OF TSEKOURA
The top of Tsekoura has an altitude of 1.732. Even if it cannot be considered one of the highest, the views of each point of the horizon are impressive. The most spectacular is towards north-west the imposing mountain of Vardousia. There are other beautiful tops that we can climb such as Profitis Ilias and further away Tsakalaki.

WALK TO EVINOS LAKE
The route to the Lake is stunning and even if some point has dirt road, you will not have trouble. Of course, for those that have a 4×4 car, the route is appropriate for… tests. The dam is in a unique natural environment where you will admire the scenery, or you can travel parallel to the banks and visit traditional villages. The road leads to Karpenisi.